Cycling routes for families in Slovakia – a fantastic way to spend time together
We are sure you agree that every moment spent with our loved ones is worth more than an ounce of gold. Probably you also remember the moments from your childhood that have been with you for many years. Whether how you learned to cycle, or the first fall from a bicycle, maybe family trips around Slovakia, because traveling abroad was not possible at that time.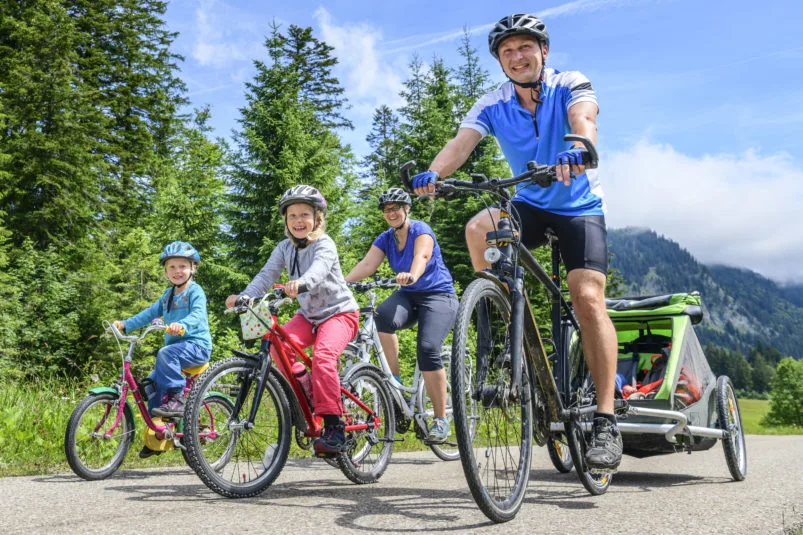 Traveling abroad is also questionable during this summer, which is why we would like to share with you cycling routes for families as an inspiration, suitable for every family member. They are located in our beautiful Slovakia and to "conquer" them – the only thing you need is a bicycle, a bicycle cart, or a bicycle seat for the little ones.
Cycling routes for families: Inspiration # 1 – Belianska cycling route
The Belianská cycle route attracts attention all year round, and for a good reason. It connects the village below the Tatras – Spišská Belá with the Tatranská kotlina. However, the original plan was much more megalomaniac – it was supposed to stretch through Ždiar up to Poland, but now we have to be satisfied with this shorter version. From March to October – November, it is a paradise for cyclists and skaters; it is an ideal place for cross-country skiers in winter. Although it leads along the main road with high traffic, it offers irresistible views of the Belianske Tatras.
Along the entire length, the Belianska cycle route will not surprise you in the wrong way with any significant inclines, so it is also suitable for the smallest cyclists, who should be able to handle it in style as well. This gem from the Family Cycling Routes series also offers benches with shelters along the way, where you can stop, have a picnic, and relax.
Alternatively, enjoy the view of the majestic Tatra peaks. If you arrive at the final destination – you will be welcomed by the Tatranská kotlina. Here you can turn around, go back, or treat yourself to a visit to the Belianska Cave. The bike path is 9 km in one direction, and in our opinion, it is very simple.
Cycling routes for families: Inspiration # 2 – Around Liptovská Mara
This cycle route has earned the rating of "The most beautiful place in Liptov" for many of us. It is very simple, do not expect any challenging climbs or steep descents to manage as a family with the smallest members.
The route is 37 km long and begins – and ends – in Liptovský Mikuláš. Along the way you will pass the places such as Liptovský Trnovec – Bobrovník – Vlachy – Krmeš – Galovany. Right in Liptovský Trnovec, you will find a beautiful stop on the banks of the Liptovská Mara dam, where you will get a phenomenal view of the Low and Western Tatras in good weather.
Liptovská Mara's well-known symbol has been a church – for many years by now, which is also your stop on this route. A few minutes further – depending on your cycling pace – you will see the Havránok open-air museum. As part of the cycle route for families, it is an attraction intended especially for our youngest ones, as the tour lasts only 30 minutes
Cycling routes for families: Inspiration No.3 – Rača – Ivánka pri Dunaji and Štefánik's monument
A beautiful route with no hills or elevation, also ideal for beginners and little cyclists. It has about 15 km in one direction; you can also return the very same way. You start in Rača, at the end stop of the trams, where you will immediately see the cyclo path leading the way to Svätý Jur, then it turns south. You pass the airport on the way to Ivánka pri Dunaji, from where there is only a short section directly to the M.R. Štefánik's monument.
The pro is the beautiful nature, you are not even close to the main roads and the pace – you set it yourself. You can also stop by and enjoy a great ice cream in Ivánka.
Cycling routes for families: Inspiration No. 4 – from Devín to Devínska Nová Ves
The ideal start is in the parking lot below Devín Castle, where the cycle path also begins. Do not be discouraged by the not very high quality of asphalt; you will enjoy a perfect time with your family on this route. An easy path and a beautiful environment around the Morava River will make you speechless. However, if you come here when mosquitoes are at their best, be sure to bring a repellent. From Devín, it will take you about 4.5 km to Devínská Nová Ves; a great place to refresh yourself is at the Cyklomost slobody. Yes, this is exactly the bridge, which we Slovaks wanted to name the Chuck Norris Bridge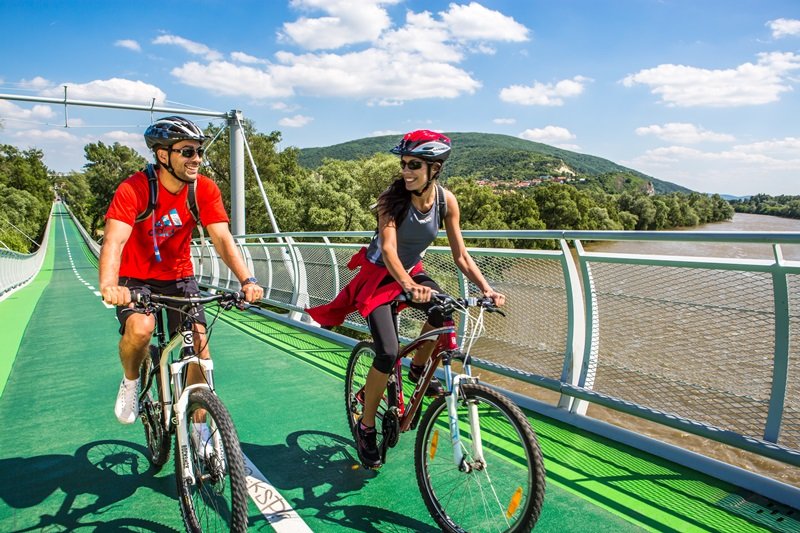 If you still have the strength to continue after arriving in Devínská Nová Ves, we recommend crossing the Cyklomost slobody and the Morava River to Austria. The beautiful castle, known as Schloss Hof is about 2 km away from the bridge. Every year and almost every weekend, family events take place here, especially in summer, where each of you will find something you like. Dads and moms great and tasty regional delicacies, children merry-go-rounds, slides or contact zoo.
We could continue sharing our tips for cycling routes for families forever, as Slovakia officially has 13,000 kilometers of cycling routes. However, not all of them are in ideal condition. If you also have your favorite bike path suitable for the whole family, share it with us and we will be happy to share it further. Until then, we wish you a beautiful summer and many cyclo-kilometers without an accident; we look forward to seeing you again in a week!
Sincerely, Virtual Championship Team