Never too late to start exercise – sports for elderly
Short sleep, alarm, I'll sleep a bit more, alarm clock again … I should go running … I'll sleep a bit more again. Excuses and reasons why we do not want to be active and get moving or get out of a warm bed in the morning are the daily practice for many of us. One saying says that if we start moving as young and active, it would be such a great benefit when reaching old age. So, how beneficial is it for us to exercise even when getting older? Read our article and get some inspiration.
The most common excuse is, "I am too old to start any exercise." It is not true. It is never too late to start working on your health. It is scientifically proven that adults who decide to do the sports at an older age enjoy better physical and mental health than those sitting idle at home and solve crossword puzzles. Suppose you've never done any sports and start slowly. In that case, you may avoid all the serious injuries happening to us when we start being young. It is crucial to start with light activities and certainly consider your health. Many illnesses such as diabetes, arthritis, rheumatism – if you suffer from any of these, consult your planned activity and exercise with your doctor or specialist.
Exercise and sports with the elderly – more pain and complications? No way.
Again, a myth that we would like to ruin. Often only a slight change of perspective is more than enough. Exercise in old age helps to manage pain better and improves strength, endurance and self-confidence. Many active retirees mentally and physically confirm that regular activity helps to reverse aging and even builds better self-confidence or vitality and the ability to manage daily tasks without needed help from others. Again, the key is to start slowly and ideally – under the supervision of somebody who knows what to do.
Motivation is key.
To prove that it works, we have prepared for you the story of an old lady – "little Anička" from Veľký Krtíš. Anička was born in 1930 in the small village of Selce, raised 2 children and has been a widow for 22 years by now. During her active life, she worked in an office and relaxed in the garden. She is perfect proof that exercise rejuvenates and helps at an older age. At the age of 89, she enjoyed working in the flower garden, which was her most enormous pride. She did not consider herself an active sportswoman but rather a gardener, and she also enjoyed knitting color socks.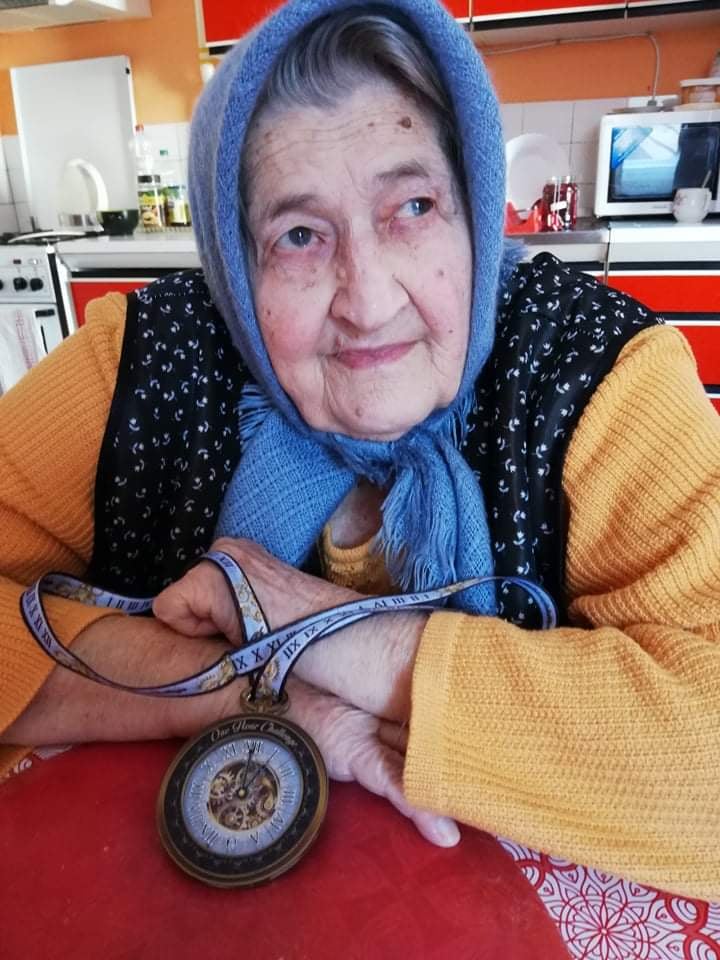 However, aging was more and more visible and two years ago, she had an ugly fall, after which she remained dependent on family care 24 hours a day. She needs assistance with every activity; she spent a long time in bed and had to rehabilitate every day. She "ruled" the world around her from a wheelchair; currently, she also manages to take a few steps with the help of a walker.
The granddaughter of our old lady – "little Anička" – began to conquer challenges and she won a couple of medals. Anička liked the medals and that's why her family signed her up for our challenge.
Grab your phone and let's start!
Grandma Anička decided to conquer the first challenge, for which she would receive a medal; she said that she could boast of being active even at her high age. Although she overcame the challenge carefully – step by step, motivation was also crucial in this case. Her granddaughter put a phone in her pocket that monitored the distance walked and measured the progress on the go – looks like a real challenge – but all the more critical at her age. It's not about kilometers walked, meters are important. With every section she completed, the eyes of the old lady sparkled with pride and joy.
Given the grandma's age, after every challenging stage, which might seem like a piece of cake to us – healthy and active -, she needed a proper long break to prepare for the next phase. She relaxed and gained strength in her favorite chair, watching the famous hits of the popular folk band Duo Jamaha.
The whole family is rightly proud of the old grandma Anička – not only did her granddaughter sign her up for the challenge, but she also accompanied her in overcoming for us – too short distances. As this small gesture shows, it was a sign of gratitude to the old grandma for being able to take care of her grandchildren when their parents worked long hours when being younger. It is a beautiful and humble gesture that really deserves our admiration and round of applause.
Try to challenge your grandparents to active exercise even in old age. You get our guarantee that this will strengthen their health, but especially your relationship and bonding with them.
If you are interested in something you did not find in this post, feel free to write to us.
Goodbye friends at the next blog post.