Description
The German company Reboots launched the innovative massage pants creating full-area compression and thus contribute to quality regeneration. Reboots regenerative pants help your body remove metabolic waste products (lactic acid, uric acid, etc.), produced during sports performance and their increased concentration slows down the regeneration process. It actively prevents undesired symptoms after exercises, such as tension, pain and muscle swelling. The result is a significant increase in performance using the same training stimuli and a shorter regeneration time.
Reboots regenerative pants will get you back on track faster.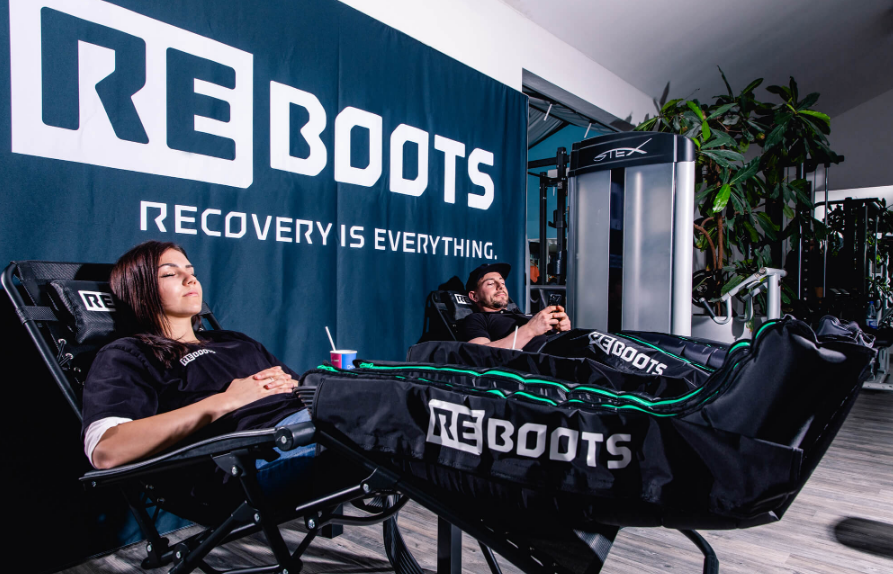 How often should you use Reboots :
You can use Reboots regenerative pants almost daily. The ideal duration of one therapy ranges from 30 to 50 minutes. There is no specified duration or frequency of use of any Reboots pants.
When to use regenerative pants Reboots:
Directly after demanding training: Reboots regenerative pants, when used directly after training, will help you to reduce quicker the resulting lactic acid produced and at the same time regenerate after strenuous exercise.
When relaxing: Have you had a hard workout or an exhausting day and want to rest in the evening? And what about a great massage from Reboots? The perfect solution for this situation.
When warming up before a race or before a challenging workout: Reboots regenerative pants are NOT primarily intended to be as a warm-up before training, but despite it, many athletes use regenerative pants precisely for doing so. Athletes who use Reboots regenerative pants like this have a very positive experience with a short application before training. However, the application should be short and at low pressure.
CAUTION !! Regardless of when you use Reboots, keep your legs as even and evenly horizontal as possible during application and ensure that the air supply hoses are not blocked. This extends the life of your Reboots regenerative pants.
Keep your feet fresh and rested without connecting to a power source. Take your Reboots GO to the gym, pool, track, or under your favorite palm tree in Hawaii. Use Reboots GO PANTS wherever you want due to the 3-hour battery capacity.
Who should wear Reboots products :
Reboots products are so phenomenal and so versatile that their use benefits everyone. All Reboots products are designed for everyday use, whether you are a professional athlete or a regular working human being.* (The only exceptions are people suffering from particular diagnoses or part of the list for whom the use of Reboots products is not suitable check more information in our BLOG.)
Have you decided to buy Reboots regenerative pants? Or thinking of somebody to give it as a gift? However, no idea what Reboots size you need? We have put together essential information to help you choose the right size and find out how Reboots products work and when it is not beneficial to use Reboots products. More information about Reboots regeneration products can be found in our BLOG in the article: Reboots regenerative products: technical and user details.
Still hesitating ? ? Would you like to TEST Reboots products before buying it?
NO PROBLEM ! !   SIMPLY RENT REBOOTS.  
* (Minimal rental period is 10 days /80 eur.)
Only with us, you get up to a 10% discount on the price of Reboots products.
For each of your purchases of Reboots regenerative products, Reboots.sk donates 5% of the product price to the Virtual Championship Charity.
Thank you.