We have supported good things together – Litvínov Dog Deposit
At Virtual Championship, we care about making the world a better place for us and unwanted or lonely pets. One of our virtual events – the 4Paws Spring Marathon, is aimed at helping one fantastic organization – the Litvínov Dog Deposit.
For all those in charge of the Dog Deposit in Litvínov, pets always have a special place in their heart – whether they grew up together or started to realize more information after taking the dog from the illegal breeder. The issue of dogs from the illegal breeding station is not a pleasant topic for the general discussion but happens very often. The dog deposit decided to pay more attention to this topic and help the most affected souls – dogs. They had a great idea – why not create a calendar, try to offer it on the market and donate money for further help?
How did it all start?
Litvínov dog deposit was, in the beginning, a regular shelter based on volunteering and good people who share not only their free time but also finances. The beginnings date back to 2017 and the deposit animals are homeless dogs. In the first six months of their existence, they helped almost twenty dogs, which is a severe reason for continuing this story. However, regular food, walking and occasional caressing are not enough for asylum dogs. In Litvínov, they pay more attention to the dogs themselves and solve their mental and physical problems. Have you ever thought that a dog can also suffer from mental health issues? They teach them obedience, basic commands, "more advanced students-dogs" try various new games, canicross, bull sports, agility on their own training ground.
However, over time and also thanks to increased awareness, the number of dogs have not decreased. Four-legged inhabitants in Litvínov, on the other hand, are constantly growing in numbers. The dog deposit has its network of supporters – aunts and uncles throughout the Czech Republic, who are reimbursed for the care of the pets waiting for adoption. Dogs live outdoors and indoors, and great attention is always paid to finding a new loving owner.
We, from Virtual Championship, are also happy that we could support the Dog Deposit in Litvínov. Together with you, we collected 5 100 CZK (approx. 200€), which is a nice amount to make the life of the inhabitants of the deposit in Litvínov more pleasant.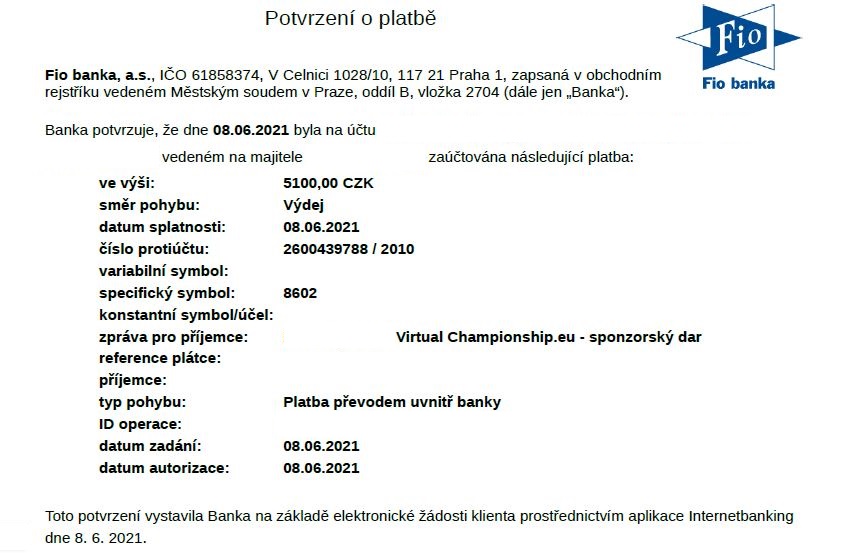 What has 2021 brought so far for Litvínov Dog Deposit?
A new home should always be a friendly and safe haven because that's exactly what an abandoned dog deserves. The dog deposit in Litvínov is constantly in contact with the new owners; they organize annual meetings where every adopted pet is invited. There is always a lot of fun there.
The year 2021 also brought some news for Litvínov – they intend to open the ARIZONA deposit place. They will also take other animals to spend the last years of their life – horses, sheep, rabbits, goats, owls and the like. However, no one can guess what the upcoming years will bring and what we should be prepared for.
Do you also want to support the good reason? Good news, you still can! We would be very grateful (and not just us) for any small amount you send to the bank account of the Dog Deposit in Litvínov. Your contribution will be a nice gesture for the great people responsible for this deposit but mainly for the pets that call this place the only home they have.
And do not forget – when we sport, we help others together and only as a team we can build great things!
Thank you very much!
Your Virtual Championship Team