Reboots regeneration products: technical and user details
Have you decided to buy Reboots regenerative pants? Or thinking of somebody to give it as a gift? But no idea what Reboots size you need? We've put together essential information to help you choose the right size and find out how Reboots products work.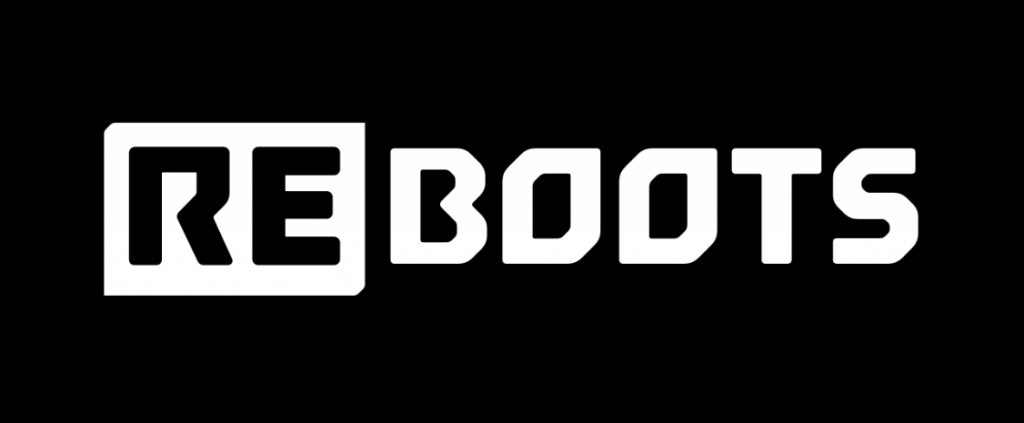 ---
How to use regenerative pants Reboots :
1. Put on your pants and zip up
Insert the hose adapter into the compressor and switch it on. Tip 1: We recommend using Reboots immediately after training for 30-50 minutes.
2. Select a program and length
Choose one of the six individual programs and set the length of the application. You can do this manually or using the controller. Tip 2: check out the available programs (below in the article)
3. Press start and relax
That's it. Now relax and let the Reboots do the rest. Enjoy!
Difference between Reboots programs
There are six different programs (A, B, C, D, E, F). They differ in how air chambers are inflated. This diagram shows, for example, the operation of the A-FLOW program. In this particular program, eight chambers are inflated with air, one after the other. And so a single-chamber rising wave is created. The program always starts from the first chamber (toe) to the eighth chamber (thigh). When the last chamber inflates, a new, same period begins. Depending on the program, one period lasts 2-3 minutes.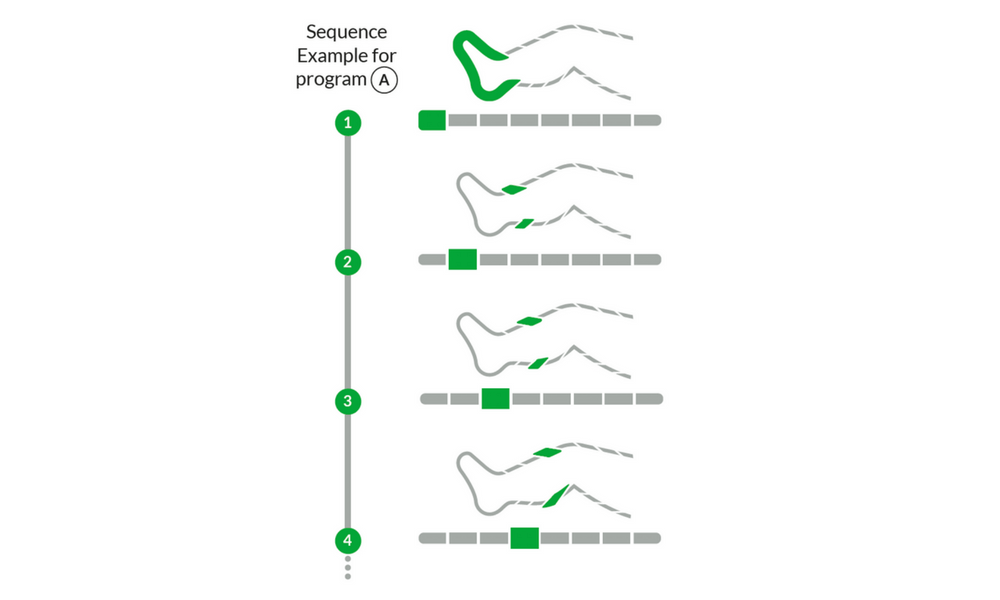 Reboots offers 6 basic massage programs:
ProgramA – FLOW:  Uses focused pressure and is, therefore, suitable for muscle relaxation. Only one chamber is inflated at a time

Program B – INTENSE:  Continuous pressure prevents backflow. This massage program is most ideal for "lactate transport". As an inexperienced user, you should first get used to this program step by step; after getting used to the A-FLOW program

Program C – DOUBLE:   Ideal program for short applications. Very similar to the A – FLOW program, but always two chambers are directly inflated. This program offers up to twice the number of repetitions over the same period, therefore shortening the application's duration.

Program D – IMPULSE:  Quick and intensive, this program is designed to maximize the number of compression iterations (pathological or therapeutic closure of body cavities, especially vessel walls) and is especially suitable for short, very intensive applications.

Program E – INTENSE DOUBLE:  Allows a wavy massage with two chambers inflated continuously. It prevents backflow of waste products, removed by massage—in-depth effect.

Program F – INTENSE FLOW: Several chambers are inflated continuously to prevent backflow. Ideal for removing lactate and less intense than the B-INTENSE program because the legs are continually squeezed.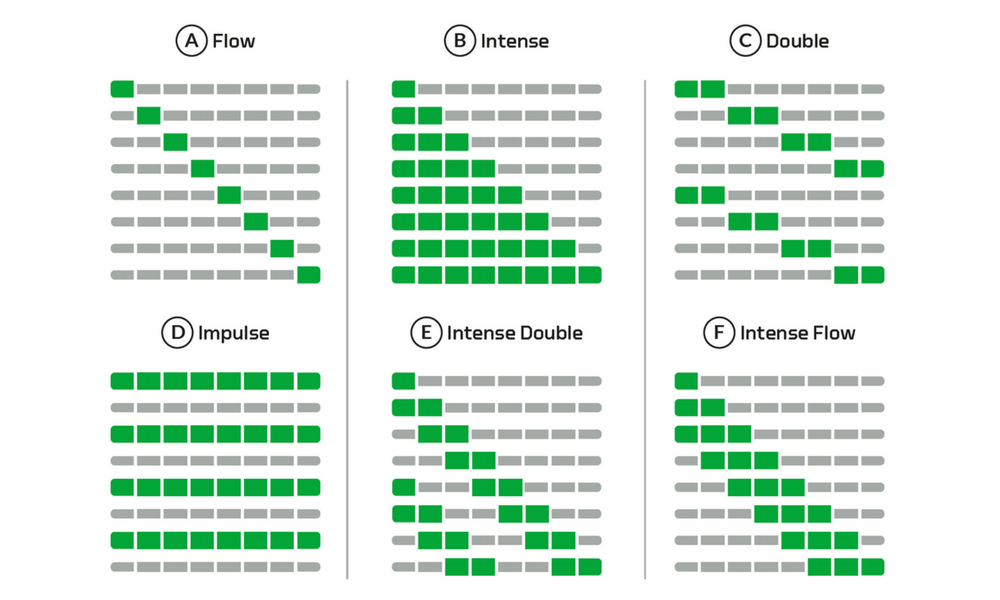 Technical parameters of Reboots products:
Reboots products have 8 individual air chambers and, in combination with high pressure, allows efficient "expulsion" of metabolites from the legs and arms, affecting the legs and arms and the complex body.
the option of de-activation of individual chambers (e.g., in case of injury or spots of increased pain)
total of up to 8 pressure levels from 30 – 240 Torr
adjustable application time from 5 minutes to 90 minutes
up to three sizes available in the range from 150 cm up to 200 cm (M, L, XL), increasing by approx. 15 cm of body height
Individual massage programs (programs for short, long and very intensive massage cycles)
Reboots regeneration pants size :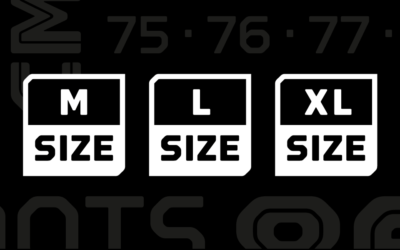 Reboots regenerative pants are available in three sizes
size M: length up to 81cm, with a smaller thigh circumference, we recommend using a higher pressure for effective application.

size L: length 82 – 88cm, the most common size.

size XL: length 89cm +
How to get the proper size of Reboots:
If you would like to find the right size, measure the inner seam's length on your pants. Choosing to consider body height may not be accurate. A short video will help you to measure correctly and choose the proper size = CLICK VIDEO HERE
The proper size of Reboots regenerative pants
In general, your pants should be pulled out as high as possible so that the toes are slightly over the lower end of your pants. With such pants "on", you can be more than sure that the application is proper.
Testing Reboots regenerative pants
Not sure about choosing the right size or the effects of Reboots regenerative pants? Not a problem. Rent it for a few days. The minimum rental period is 10 days/80 euros. Take your "personal" masseur with you to concentrate and acknowledge its exceptional effects.
Only with us, you get up to a 10% discount on the price of Reboots products.
For each of your purchases of Reboots regenerative products, Reboots.sk donates 5% of the product price to the Virtual Championship Charity.
Thank you
Interested in something not included in this post? Feel free to contact us.
Goodbye, friends, see you soon with the next blog post.